Anyone who works in an industrial environment knows this. Cleaning the environment is essential, and is also required by law.
This procedure often involves stopping the vacuum cleaner, dismantling it and emptying it manually, then reassembling all the components and starting it up again. Consequently, the packaging machine that produces the residues and for which the vacuum cleaner is applied must also stop its production cycle, even if only for a short time.
In this case, Apply found a smart solution: it is a sequential exhaust for continuous suction.
Let's see how it is composed.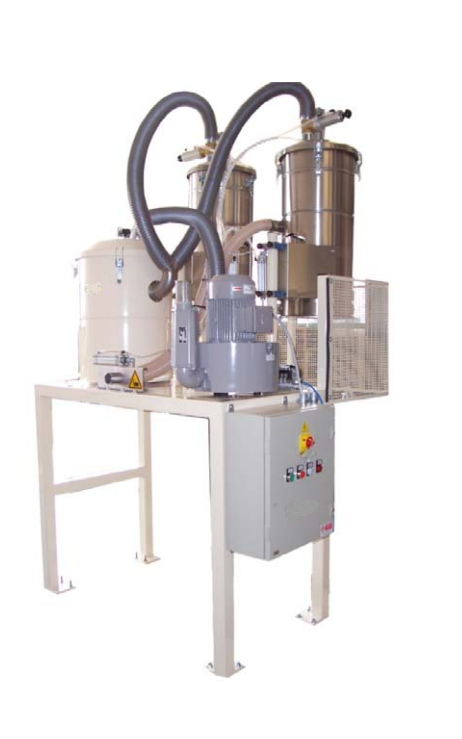 Two suction units are connected to each other and positioned on a 1 metre high painted steel frame. At the bottom of the frame, a bag or tank is placed under each vacuum cleaner to collect the waste at the time of discharge.
The turbine causes a vacuum that sucks the waste into one of the two hoppers. After 30 seconds, thanks to a switch with diverter valves located on the product piping, suction is transferred to the other hopper.
While suction continues in the second hopper, the first one empties the waste into the positioned bag. And so on until the bags are full and must be emptied.
This system eliminates downtime and only requires manual operator assistance for emptying the large bags or containers located at the bottom of the frame.
It can be positioned at a distance of between 3 and 25 metres from the packaging machine.
The filter protecting the turbine is made of mesh, diameter 360.
Electrical system enclosed in a painted steel IP 55 watertight box, designed to manage two stations and start the motors. Inside: PLC for system management, transformer for low voltage controls, motor starter, main switch lock, run-stop selector.
Don't hesitate to contact us for advice tailored to your specific needs! This is just one example of the many solutions Apply can find for you!